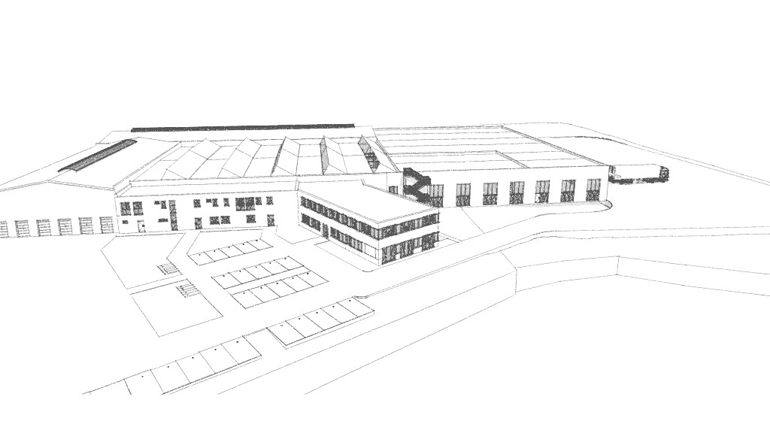 Kirchhain, April 02, 2020 The new corporate headquarter of the solar company, which was previously based in Cölbe and Kirchhain, rapidly takes shape. Wagner Solar expands the premises in Kirchhain by 600 m² office space, including a seminar room and 3000 m² factory space for production and distribution. The activities in Cölbe will relocate to Kirchhain by the end of 2020. The topping-out ceremony that had been planned for this week in Kirchhain will not take place due to the current risk of corona disease, which, however, does not diminish our joy at the construction progress.
The approximately 75 employees will work together at the expanded Kirchhain site in the future. "Merging the plants will enable us to accomplish more simply for example by streamlining work processes and eliminating plant traffic," says board member Andreas Knoch, and adds: " Moreover, the new buildings and the site itself offer further reserves for future growth."

Udo Geisel, head of production, emphasizes that Wagner Solar will then produce solar collectors and solar mounting systems under the same roof as well as stocking and dispatching all types of solar components to customers. "This is a clear commitment by Wagner Solar to being located in the very heart of Germany, not only for sales and development, but also for production". The owners thanked the architect, project manager and the commissioned construction company for their commitment even in such challenging times.

In good old tradition Wagner Solar, active in the field of renewable energies for more than 40 years, harnesses the power of the sun through photovoltaic and solar thermal systems and a state-of-the-art woodchip heating system. The additional office space will be heated with a brine-water heat pump, using the newly added SOLINK PVT collectors as heat and power source. In future, employees will be able to use charging points for electric cars and e-bikes to travel to and from work free of charge.
Wagner Solar GmbH
Wagner Solar is a first-tier solar pioneer. The Hessian production and trading company, founded in 1979, is part of the internationally active Sanderink Group. Wagner Solar sells resource-saving products and system solutions in the fields of solar power, solar heat and energy technology.

www.wagner-solar.com.